Every week, I document another dish that impressed and satiated me during my food adventures around New York City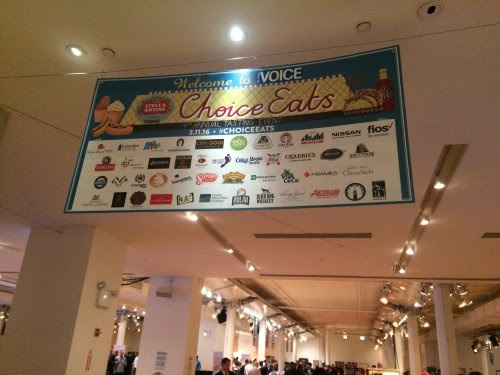 Last week, I ended up more full than I had been in a long time. The reason was I had been invited once again to the annual Choice Eats event hosted by Village Voice. A large group of hungry attendees filled up the giant Metropolitan Pavillion. It was a giant room with over 50 food and drink tables. And they were all offering up a bite or two and as many as you want. This is always dangerous.
As always, I found some great food from some of the city's most exciting restaurants and food businesses. I bypassed the long line for Luke's Lobster (that business has the longest line no matter where they are) and jumped from stand to stand sampling my way through the night.
There were quite a few highlights, including a very showy raclette savoyade (with a la minute melted cheese on top of roasted potatoes) from the new East Village cheese restaurant Raclette, an old classic with a twist from Veselka (they had pierogies stuffed with aromatic mushroom truffles), a delicate and deeply flavorful spanish mackerel tataki with horseradish and ponzu from Bara, Quality Eat's thick and smoky grilled bacon with the surprising addition of peanut butter and jalapeño jelly, and hard goat milk ice cream from my favorite Victory Garden.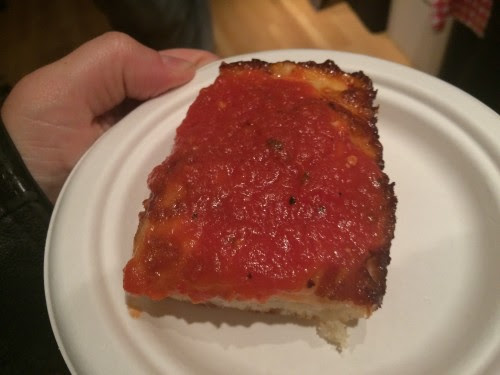 The most exciting discovery of the night is from a restaurant that has not yet opened yet. I was super excited to try the Detroit-style pizza from Emmy Squared. This is the newest project from the folks behind Clinton Hill's Emily, which makes very exciting and delicious pizza. The new restaurant will be in Williamsburg and the specialty is something we don't see very often in this city. Pizza from Detroit seems similar to Sicilian with square slices, a thick sweet bready dough, and fantastically crisp, browned cheesy edges. It's really delicious and I can't wait for this new restaurant to open in Williamsburg in the spring.
It's these kind of unexpected discoveries that make navigating the crowds at Choice Eats and dealing with my overly full belly worth it. I've already begun digesting and making room for next year.
About the Author
Brian Hoffman is a classically trained actor who is now a full-time tour guide, blogger, and food obsessive. He leads food and drink tours around New York City, which not only introduce tour-goers to delicious food, but gives them a historical context. He also writes food articles for Gothamist and Midtown Lunch in addition to overseeing this blog and a few food video series, including Eat This, Locals Know, and Around the World in One City.